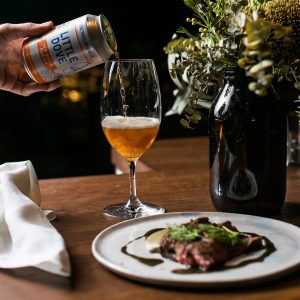 For the first time, Estelle is holding a special beer match dinner with one of our favourite brewers – Gage Roads Brewing Co. from Western Australia.
Gage Roads is the strip of ocean that separates Rottnest Island and Fremantle in Western Australia. It is home to surfers and swimmers; seagulls and sharks, ships and sailors and a place where you can relax, escape, explore or seek out adventure.
We've tried and tested 5 of the best beers Gage Roads has to offer and matched the perfect menu to accompany.
Come and join us for a relaxed evening involving all things food and beer, with a chat from a Gage Roads brewer and chef from Estelle.
Tuesday, December 3 at 6.30pm
Tickets are $135pp and include snacks, 4 courses and 5 beers to match.
More about Gage Roads Brewing Co here
Bookings – 03 9489 4609 or info@theestelle.com.au
*Bookings are essential and not available online.
Please phone or email the restaurant directly to secure your place.
MENU:
Snacks
SIDE TRACK ALL DAY XPA
Scotch quail egg, horseradish crème
Sydney Rock oyster, XPA jelly, citrus
First Course
SINGLE FIN SUMMER ALE
Heirloom tomato, nectarine, stracciatella, basil oil
Second Course
SMALL BATCH LAGER
"Fish & chips"
Third Course
LITTLE DOVE NEW WORLD PALE ALE
Milawa chicken, gnocchi, last season morel, truffle beer sauce
Fourth Course
SLEEPING GIANT IPA
IPA glazed BBQ peach, burnt white chocolate, beer ice cream